Scar treatment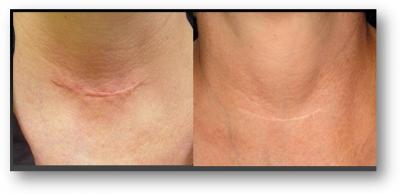 The information provided here on scar treatment is general advice. A treatment tailored to your needs can only be carried out after a detailed consultation with dermatologist Dr. Urs Büttiker at our dermatology clinic in Bern Bubenberg. Please do not hesitate to contact our practice for dermatology and venereology dermatologist Bern Bubenberg. Especially for the treatment of acne scars, we kindly refer you to this page Acne treatment.
There are thickened, flat and sunken scars. The right treatment method must be used depending on the type of scar.
Dermojet
With this device, cortisone or bleomycin, for example, can be precisely applied to the scar. This form of therapy is particularly suitable for thickened scars and always produces excellent results. Several sessions are usually required.
Laser
Depending on the type of scar, different types of laser are used. Dr. Büttiker will discuss this with you and match the appropriate laser technique to your scars. In addition to laser therapy, this effect can be enhanced by injecting platelet-rich plasma (PRP), which is obtained quickly and easily from your own blood. This procedure has long been used successfully in orthopaedics, e.g. for athrosis, and has been described in studies; now, according to new studies, this method is also effective in aesthetic medicine for wrinkle and scar treatments.
Dermaroller
This can be used to improve flat and sunken scars. Please also see Dermaroller for acne scars.
Filler / lipofilling
This is an excellent way to fill in sunken scars, either with hyaluronic acid or with autologous fat.
Dermabrasion / peeling
This involves sanding the skin to achieve regular regeneration
Surgery
The unwanted scars can be cut out and closed again. In the event of excessive scarring, additional prophylactic treatments must be carried out (e.g. pressure bandages, cortisone, silicone bandages or radiotherapy).
Dr. Urs Büttiker, MD, is a specialist (FMH) in dermatology and venereology, FMH phlebology (venous disorders, USSG certificate of competence), FMH sonography vessels / veins (SGUM certificate of competence). As a dermatologist, he is, among other things member of the Swiss Society of Dermatology and Venereology (SGDV), European Academy of Dermatology and Venerology (EADV), Swiss Group of Esthetic Dermatology & Sknicare and the Swiss Society for Medical Laser Applications.