Aesthetic dermatology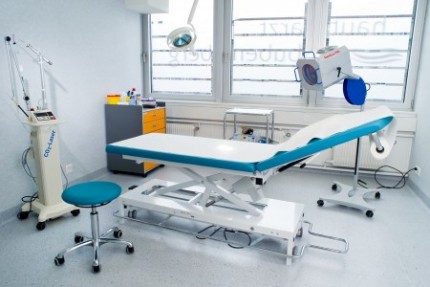 Removal of benign and malignant skin lesions
Scar corrections (keloid, acne scars, (micro) dermabrasion, etc.)
Dermabrasion
CO2 laser surgery
Eyelid lifting, eyelid blepharoplasty and bags under the eyes (e.g. blepharoplasty) in the practice's approved operating room with plastic surgeons
Other aesthetic plastic dermatology in collaboration with plastic surgeons, e.g. liposuction
Operating room: Surgery is performed in a certified operating room in the practice.
As a rule, the procedures and operations are performed by the dermatologist Dr. med. Büttiker, who has also regularly operated with colleagues in aesthetic and plastic surgery as part of his training. For certain procedures, FMH plastic surgeons will also be available in our dermatology practice. This prevents unnecessary double consultations and duplication for you.
Dr. Urs Büttiker is a specialist (FMH) in dermatology and venereology, FMH phlebology (venous disorders, USSG certificate of competence), FMH sonography vessels / veins (SGUM certificate of competence). As a specialist, he is a member of the following societies: Swiss Group of Esthetic Dermatology and Skincare (SGEDS), Swiss Society for Medical Laser Applications (SGML), Swiss Society of Dermatology and Venereology (SGDV) and the European Academy of Dermatology and Venereology (EADV).
In addition to the above offers, we often also perform the following procedures. Please ask us directly about this.
Slimming songs, hanging songs
In collaboration with the plastic surgeons, the procedure is performed on an outpatient basis. In the case of visual field impairment (must be checked by an ophthalmologist), a cost credit can be submitted to the health insurance company in the sense of a medical condition.
Earlobe reconstruction
In collaboration with plastic surgeons
Bump nose
There are various treatment options for this:
Shave, removal with an electric snare and laser. A nose has a great regenerative capacity without scarring.
Liposuction "Liposuction"
This is done in collaboration with plastic surgeons after a detailed consultation.
Dr. U. Büttiker, dermatologist Bern, will discuss the procedure and possible side effects with you in detail.