Laser removal of pigment spots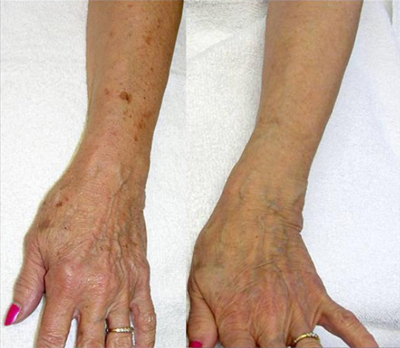 Age, pigment and sun spots are generally benign skin changes that mainly occur on the face, neck, décolleté, arms and back of the hands. Before laser treatment, the age or pigment spots must always be checked for benignity by Dr. Büttiker. In this context, the treatment is always discussed in detail beforehand. The advantages/disadvantages are discussed in detail, as are the risks/side effects.
With our state-of-the-art skin laser at the Bern Bubenberg dermatology practice, pigment spots can be lasered and thus disappear very effectively. There is actually no severe pain, but there may be a burning sensation during the treatment.</p> <p>Not only individual spots, but the entire skin can be freed from spot irregularities and rejuvenated (so-called correction of "dyschromasia"). After the treatment, the age and pigmentation spots are slightly grayish-red and after 7 days they usually disappear completely without ever leaving a scar. They are usually socially acceptable again after the treatment, but discoloration can also be covered up. Good sun protection is important, and we usually provide you with a sample (factor 50).
Dr. Urs Büttiker, MD, is a dermatologist and member of the Swiss Society for Medical Laser Applications (SGML). As a dermatologist, Dr. Büttiker has access to particularly powerful skin lasers that may only be used by doctors.
Please feel free to contact us